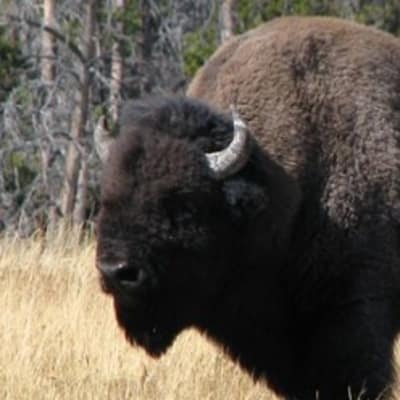 Travel Guide
Bozeman Montana - Gateway to Yellowstone National Park
Bozeman is located in the heart of southwestern Montana's Rocky Mountain Range, a scenic 90-mile drive north of Yellowstone National Park. Year-round outdoor recreation activities, world-class museums, art galleries, antique shops, cultural events, education, and business opportunities abound. The Bridger, Gallatin, and Tobacco Root mountains surrounding the valley offer some of the world's finest fly fishing, skiing, hiking, camping, biking, rafting, climbing and kayaking.
Fox Hollow Inn provides the Montana visitor with a wealth of knowledge of the activities, area history, dining and the sightseeing adventures available. Besides providing a comfortable bed and delicious breakfast, Fox Hollow is a great place to meet fellow travelers and share your Montana experiences.
Definitely check our Location tab for a wide array of activities, tours and restaurants in the Bozeman area.
Visit Virtual Tour Guide for a tour guide of the Bozeman area while you stay with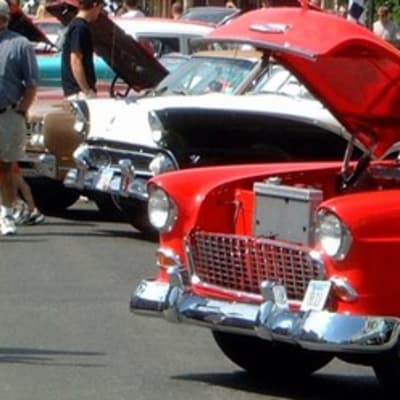 Area Events
Bozeman Area Events
---
June 7th through September 28th
The Bogert Park Farmers Market runs every Tuesday 5-8 pm. Vendors from around the area bring vegetables, arts, crafts, music, food and much more! Shop and gather in support of a fun-filled family environment! Bogert Park is located just south of East Main Street & Church Street.
---
June 20th through September 13th
Gallatin Valley Farmers Market at the Gallatin County Fairgrounds every Saturday from 9 am until noon.
---
June 25th through August 13th
Music on Main. Every Thursday evening for 8 weeks in July and August from 6:30pm - 8:30pm, a portion of Main Street is closed off to vehicle traffic to enjoy live music in downtown Bozeman.
---
July 13th through August 24st
Lunch on the Lawn. Enjoy a noontime picnic with music with live local bands on the lawn of the Emerson Cultural Center located one block south of Main Street at the west end of historic downtown Bozeman. Bring your own picnic or sample fares from some local vendors.
---
Wednesday prior to Sweet Pea Festival weekend
The Sweet Pea festival presents the annual Bite of Bozeman starting Wednesday 6 PM. Come mingle on Main Street with your friends and family, enjoy fine cuisine by over 30 local restaurants and listen to great local bands.
---
1st weekend in August
The Sweet Pea Festival has been aBozeman Montana tradition for over thirty years.Lindley Park, located at the very east end of Main Street, is the setting for the festival. You can spend the entire weekend enjoying a wonderful variety of music, dance, and theatrical performances. There are children's art workshops, arts and crafts vendors and great festival food. Try the Tater Pigs!
---
3rd Sunday in August
Main Street is open to foot traffic only as cars, trucks and motorcycles line the street, all vying for votes to win one of those coveted trophies. The "Cruisin' on Main" Annual Car Show is located on Main Street between Wilson and Rouse Avenues. The show will last from 9AM till 3PM. Car enthusiasts are invited to enter their vehicles in the show - all classes are welcome!
---
August 22nd
If you love quilting, check out Quilting in the Country.
---
1st Saturday in December - The Christmas Stroll
Come kick-off the Holiday Season in Downtown Bozeman!! Join us for fun activities, great food, and fun. Bring the whole family to ride on the hay wagons, get your picture taken with Santa Claus, watch the lighting ceremony of the downtown decorations, check out the gingerbread house contest entries, sing Christmas carols, grab a bite to eat from one of over 35 non-profit food vendors or do some Christmas gift shopping. The Christmas Stroll is the place to find it all!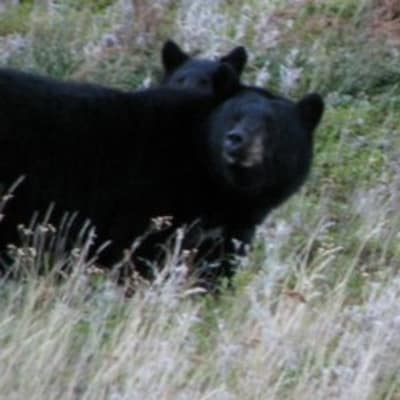 Yellowstone Park Day Trip
On your way to Yellowstone National Park, you'll travel through some outstanding scenery, driving through the mountains and along streams. Yellowstone is the country's first National Park and has seen millions of visitors since its opening in 1872. Spend some quality time here and you'll understand why.
Bozeman to Gallatin Gateway (13 miles) - Head west on Main Street to Four Corners and turn south on Highway 191. Drive about six miles and enjoy the historic Gallatin Gateway Inn.
Gallatin Gateway to Big Sky Resort (36 miles) - Continue south on 191 to Highway 64. Make a right and head up to the resort. Enjoy incredible views of the Rockies and the Gallatin Range atop Lone Peak.
Big Sky to West Yellowstone (48 miles) - Head back down Highway 64 and turn right onto Highway 191. Continue south on 191 until you reach West Yellowstone, a neat little town and one of the main entrances to Yellowstone National Park.
West Yellowstone to Gardiner (miles vary depending on route through park) - Once you make your way through the park, follow Highway 89 to Gardiner, the north entrance to the park.
Gardiner to Chico Hot Springs (30 miles) - Continue up Highway 89 through the Paradise Valley. With the views and serenity, this is an inspiring home for many artists. Stay on Highway 89 and head to Chico Hot Springs, following highway instructions. Here you'll have great views of Emigrant Peak and some relaxing hot springs to take a dip in.
Chico Hot Springs to Livingston (22 miles) - Stay on Highway 89 until you reach Livingston. Livingston offers up several museums, shops and restaurants to enjoy.
Livingston to Bozeman (22 miles) - From Livingston, get on Interstate 90 west and head back to town.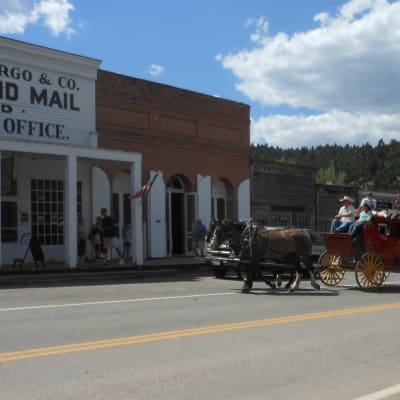 Old West Day Trip
Take some time and see the way the west really was. For a short day, make the 37 mile drive from Bozeman to the Lewis & Clark Caverns and do some exploring. For those with more time, carry on and travel through ghost towns, fish the rivers or maybe dabble in the hot springs along the rest of this 170 mile tour.
Bozeman to Lewis & Clark Caverns (37 miles) - Jump on Interstate 90 and head west until you reach the exit for Highway 287. From there, head south to the Lewis & Clark Caverns.
Lewis & Clark Caverns to Twin Bridges (35 miles) - Get back on Highway 2 west until you reach Whitehall. Take Highway 55 south and it will soon merge with Highway 41. Continue south to Twin Bridges, a town sitting at the junction of three rivers and a great spot for fly-fishing.
Twin Bridges to Virginia City (28 miles) - From Twin Bridges, take Highway 287 south until you reach Virginia City, an historic old town with preserved buildings from the days of the old west.
Virginia City to Ennis (14 miles) - Get back on Highway 287 and make your way to Ennis, where you'll be treated to quaint shops and more outstanding fly-fishing.
Ennis to Norris (16 miles) - Take Highway 287 and head north until you reach Norris. Norris has great hot springs for those looking to relax.
Norris to Bozeman (38 miles) - At Norris go east on Highway 84 until you arrive back in Bozeman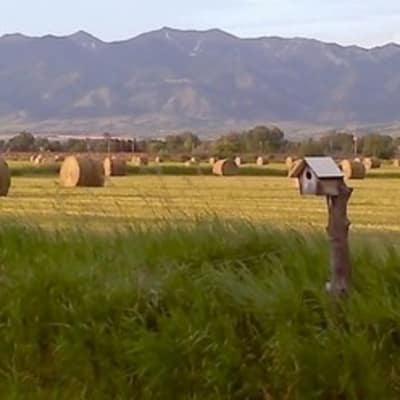 Open Range Day Trip
This leisurely 160 mile drive takes you on a breathtaking drive through the mountains and eventually through some of the best farmland and ranches in Montana. This area is also steeped in history, taking you to important spots along Lewis and Clark's expedition.
Bozeman to Wilsall (32 miles) - From historic Downtown Bozeman take Rouse Street north. As Rouse leaves the city, it becomes Bridger Canyon Road. The drive through Bridger Canyon is quite spectacular as it winds up past forests, rolling meadows, horse ranches and then past the Bridger Bowl Ski Area. The road crests just past the Bohart Ranch cross country ski area and drops into the wide open plains.
Highway 86, as it is now called, follows along the east slope of the Bridger Mountains and zigzags through the open farm land over to it∆s junction with Highway 89, just north of Wilsall
Wilsall to Ringling (20 miles) - Turn left onto Highway 89 north and you will reach Shields River Valley, an integral stop during Lewis and Clark's journey. Continue north on Highway 89, past breathtaking views of the Crazy Mountains, until you reach Ringling, a town named after one of the famed circus Ringling Brothers.
Ringling to Townsend (42 miles) - Get back on Highway 89 and go 13 miles north to Highway 12. Turn left and head west to Townsend. From here, you'll have easy access to the Elkhorn and Big Belt Mountains.
Townsend to Missouri Headwaters State Park (32 miles) - Take Highway 287 south to I-90 and east to Three Forks. Exit at Three Forks and turn left over the Interstate. Continue (3 miles) until you see signs for the Headwaters State Park. This is where the Gallatin, Jefferson and Madison Rivers converge to form the Missouri. Along the banks of the Gallatin River at the top of the hill is an interpretive center explaining Lewis and Clark∆s visit to the area.
Missouri Headwaters State Park to Three Forks (5 miles) - From the State Park, retrace your drive back to Three Forks. Three Forks offers a mixture of both great fishing and rich history.
Three Forks to Bozeman (32 miles) - Take Interstate 90 east and head back to town.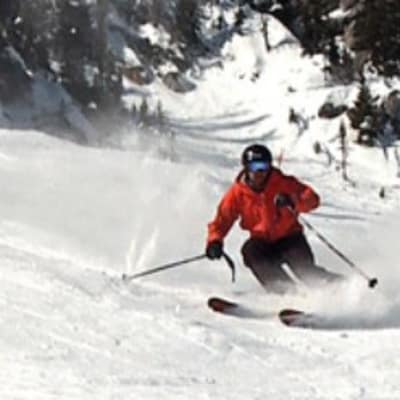 Bridger Bowl Ski Area
A Unique Montana Ski Resort
Bridger Bowl, Montana, is the gem of the Northern Rockies. Located only 16 miles north of Bozeman, Montana, this outstanding ski area is well known for offering some of the most exciting ski, snowboard and telemark experiences that you will find, anywhere. This is not your typical Montana ski resort. Bridger Bowl is a nonprofit community ski area offering a great ski experience at an affordable price. Bozeman is home to Montana State University and is a young active community located only 90 miles from Yellowstone National Park.
MOUNTAIN STATISTICS
Bridger Bowl is flanked by two large bowls to the North and South. Most of the ski area offers wide open terrain with a variety of landscapes including long slopes, glades, chutes, gullies in addition to other smaller bowls.
Vertical Rise: 2,700 ft (2,600 ft lift-served)
Skiable Acreage: 2,000
Top Elevation: 8,800 ft
Base Elevation: 6,100 ft
Highest Lift Served Elevation: 8,700 ft
Average Annual Snowfall: 350 inches
Trails: 71
Trail Classifications: 20% Beginner
30% Intermediate
20% Advanced
30% Extreme
Longest Run: 3 miles
Lift System: 1 Quad - 3 Triples - 3 Doubles
Snowmaking: Coverage on 4% of the resort
Terrain Parks: Yes
The Experience
Bridger Bowl offers a very diverse ski experience with the following ratings: 20% beginner, 30% intermediate, 20% advance and 30% extreme. Incredible expert only skiing is available off Bridger's new Schlasman's Chairlift and on the renowned "Ridge." Skiers and snowboarders who wish to ride the new lift or access this terrain, collectively known as Ridge Terrain, must have an avalanche transceiver (457 khz). It is stongly recommended to have a partner, a shovel and expert skiing abilities in addition to knowledge of the terrain before venturing into the area which will have no hazard markings, no grooming and no marked trails. Ridge Terrain contains numerous steep chutes, rock cliffs, and snowfields which may end in unmarked cliffs. Clearly, Bridger Bowl's Ridge Terrain provides some of the most challenging skiing found within any ski area boundary!
Credit to Bridger Bowl for article content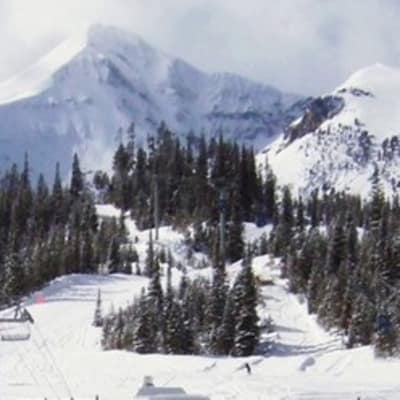 Big Sky Ski Resort
The Mountain
Big Sky Resort... Lots of resorts have big peaks on the horizon. Ours — Lone Peak — is actually on the trail map. The Lone Peak Tram takes you right to the top, where you'll have some eight square miles of runs and 4,350 vertical feet laid before your wide eyes. It is demonstrative evidence of our right to the title, Biggest Skiing in America®. But it isn't the only evidence. Short lift lines ensure you get all the vertical your legs can handle. A vast diversity of terrain — from greenhorn to grab-your-avalanche-beacon — means nobody in the family gets bored. Add in 400 inches of powder, and you begin to see why "big" applies to every turn of your skis, not some distant, postcard peak.
As if we weren't big enough for you already, the Big Sky Resort-Moonlight Basin interconnect gives you access to more skiing than anywhere else in the United States. With the Biggest Skiing in America lift ticket, you can access 5,532 skiable acres and endless ways to navigate 4,350 feet of vertical drop. At 11,166 feet it's easy to see Lone Peak's appeal to every age and level of skier and boarder. Runs up to six miles long and glades and bowls covered in 400~plus inches of annual snowfall make a day on the slopes something different for everyone.
Elevation
Summit (Lone Peak) - 11,166 feet
Base (Mountain Village) - 7,500 feet
Base (Lone Moose) - 6,800 feet
Ski Terrain
3,832 acres - 150 named runs covering over 85 miles on three separate mountains.
Slope Difficulty
20% expert
40% advanced
26% intermediate
14% beginner
Vertical Drop
4,350 feet
Longest Run
Liberty Bowl to Mountain Mall - 6 miles
Average Lift Line
Consistently recognized in national ski magazines for short or non-existent lines.
Average Winter Daytime Temperature
20 degrees F
Average Annual Snowfall
400+ inches
Lift Capacity
23,000 skiers per hour
Ski Season Opens
November 24, 2011 (weather pending)
Ski Season Ends
April 15, 2012
Snow Conditions Phone Line
406.995.5900
Credit to Big Sky Resort for article content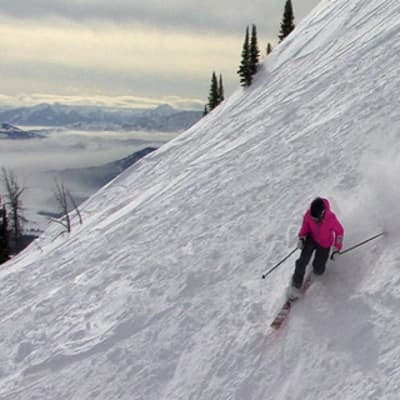 Snow Report
Bridger Bowl Ski Area
Bridger Bowl Area - Snow Report
See more detail on these ski areas on the Travel Guide page and our "Ski Resorts" tab on the Location page for more information and driving directions.
---
Big Sky Resort and Moonlight Basin
Big Sky Resort - Snow Report

See more detail on these ski areas on the Travel Guide page and our "Ski Resorts" tab on the Location page for more information and driving directions.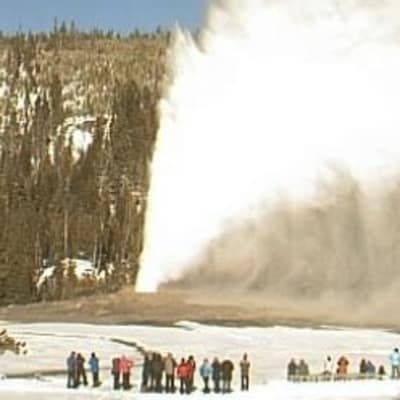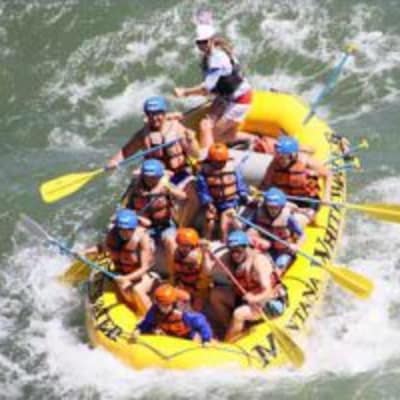 Outdoor Activites
Montana Whitewater
Want to get on the water for a ride? MontanaWhitewater has been offering tours and adventures for over 25 years now. Join the excitement of an incredible Rafting trip down the Yellowstone River and share your stories for the rest of your lives. Call 406-763-4465 to schedule today! www.MONTANAWHITEWATER.COM
---
Zipline Tours
Want to zip-line for over Cinnabar Creek? Want to feel the Mountain wind in your hair and set your adrenaline on fire? With the Yellowstone ZipLine tour or the Gallatin ZipLine tour, you will feel both. Combination packages are available for exclusive tours, horseback and zip tours, Float and zip tours, or Whitewater and zip tours. Call 406-763-4465 for details and scheduling so that you are assured that thrill of a lifetime!
---
Fishing
Want to get your feet wet with a fly fishing reel? Full or half days are available with a guided tour, fish and float, fish and raft, or just get some time on the Madison River,Gallatin River or the Yellowstone River with your rod and reel and a real professional! Beartrap Canyon can be the most amazing float whether fishing or floating! If you are already an expert, then you know there is always room for improvement. Call 406-763-4465 or visityellowstonefish.com
---
Horseback Riding
Spanish Peaks, back country, forests and streams… Let these awesome guides lead you through the gorgeous Big Sky Country on horseback. Lunches are available for full days and the horses can carry more than you think so pack your water, snacks, and lunches!